RiverPointe Senior Community of Littleton
Located in Littleton, Colorado
RiverPointe Senior Community of Littleton
Carefree and Enjoyable Retirement Living in Littleton, Colorado
5225 South Prince Street, Littleton, Colorado 80123
303-797-0600
Website: https://riverpointeseniorliving.com/
Are you ready for a new direction in your life?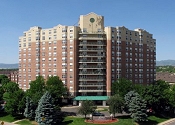 RiverPointe Senior Community of Littleton could be your answer. Located in Littleton, Colorado just south of metro Denver in Arapahoe County, RiverPointe excels at offering a new direction for 62 and older adults looking for an active independent lifestyle with all the amenities for retirement. Just minutes away from major shopping centers, medical clinics and churches, RiverPointe is a fabulous hi-rise unique design, appealing to seniors ready to enjoy their retirement with maintenance free living.
At RiverPointe retirement lifestyle is carefree and enjoyable. A full calendar of recreational, cultural and education programs are available to our residents. Scheduled through our full time concierge and for your convenience RiverPointe provides van transportation to shopping centers, malls, grocery stores and medical appointments plus local venues of attraction in the historic town of Littleton and its surrounding areas.
About our Staff
Our well-run management team and exemplary staff take care of all maintenance and day-to-day services. We offer on-call maintenance for promptly addressing any concerns. Our staff also handles the upkeep of the outdoor landscaping, gardens and walking paths that surround the building. It is wonderful to have such convenient walking and exercise paths right outside the front door!
Our Apartments

At RiverPointe we offer a variety of apartment floor plans not to mention extraordinary panoramic views of downtown Denver and the Front Range. Plan a tour soon to secure the apartment that suits your retirement lifestyle.
The layout and flow of our building and common areas are thoughtfully arranged to accommodate all of our residents daily needs and the diverse activities we host such as dances, special events and guest speakers. We have studio, one, and two bedroom models with exceptional features characterizing each apartment. Apartments range from 263 feet to 1113 feet and we offer exemplary Penthouse models.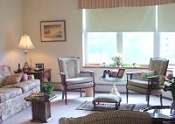 Each floor of our hi-rise building features a series of apartment models such as the Alcove, Belmont, Tanforan, Hialeah, Centennial, Centennial Deluxe, Saratoga, Lexington-Canterbury and Arlington. Every apartment model has its own set of unique and appealing characteristics. Some models like our sunny one bedroom offer spectacular views of the Denver skyline, Front Range or the meandering Platte River below. While other 2 bedroom models feature choices such as walk-in showers, walk-in closets or the popular den that opens into the living room. The entire apartment offers creative floor plans certain to make your apartment a home to enjoy.
Apartment amenities found at RiverPointe includes:
Meal programs including continental breakfast, casual lunch in our nook and evening dining in our fine dining room.
24-hour Staffing and Security
Concierge services
Scheduled transportation in 25 passenger bus
Weekly light housekeeping
Basic Cable TV
Individually controlled Heating and Air conditioning
Complimentary laundry facilities
Private mailboxes and postal services
Personal Storage Unit
Abundant closet space
Bay windows
Complete kitchens and much more.
Keeping Active at RiverPointe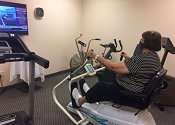 RiverPointe has active independent fitness programs designed to keep you moving at your pace. Programs include Senior Yoga, low impact aerobics, stretch & tone chair exercise and cardiovascular equipment. We also offer a wide variety of outside group excursions such as museum, theatre, current event trips and convenient shopping trips to area shopping centers and malls with our scheduled transportation.
If you prefer a stay at home day, there is always a choice of in-house cultural and social events. RiverPointe has a Full-time Activity Director coordinating and scheduling a wide variety of programs such as concerts, dances, book reviews, speaker programs, bridge, canasta, pinochle, movie nights, game nights and more. There is never a dull day at RiverPointe, we encourage an active and independent lifestyle for our residents.
Additional on-site amenities
Underground Parking or resident reserved outdoor parking
In-house Foot Clinic
Private Dining and Party Rooms
Guest Suite Rentals
Beauty & Barber Services On-site
Volunteer Opportunities to keep you active and involved
Are you ready for RiverPointe Senior Community of Littleton?
Call us today to schedule a tour and explore the possibility of a new lifestyle at RiverPointe. At our location, you can have a maintenance free lifestyle full of fun activities. You can put the "living" back into your life at RiverPointe.
RiverPointe Senior Community of Littleton
Carefree and Enjoyable Retirement Living in Littleton, Colorado
5225 South Prince Street, Littleton, Colorado 80123
303-797-0600
Website: https://riverpointeseniorliving.com/
Maintenance Free Lifestyle
RiverPointe is the perfect solution for a maintenance free lifestyle
Views of the Front Range
We have Innovative floor plans and impressive views of the Front Range!